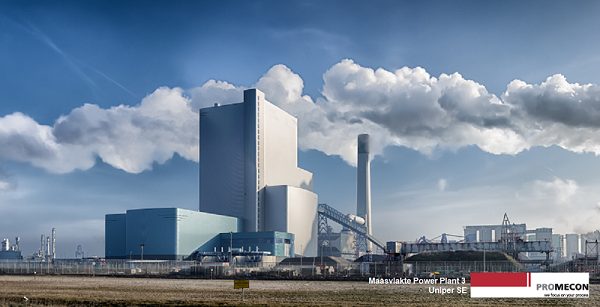 In order to measure its fuel mass flow to the burner, Uniper SE has equipped its Maasvlakte Power Plant with our patented and innovative MECONTROL Coal system! After already measuring the unburned carbon with our UBC system, they decided to add PROMECONs drift and calibration free fuel measurement.
The Maasvlakte Power Station has three units with a total net capacity of 2,179 MW and is located in a large industrial- and port area, built as an artificial island for the extension of the port of Rotterdam. Unit 3, with an electrical output of 1069 MW, was put into operation in 2017.
Together with Engie E&P Nederland B.V., which operates a neighboring power plant, a system for CO2 capture and storage is planned. The ROAD (Rotterdam Carbon Capture and Storage Demonstration) project aims to deliver 1.1 million tonnes of captured CO2 (equivalent to about 250 MW of power) over a 25 km pipeline into an exhausted natural gas field in the North Sea.
MECONTROL COAL helps you to:
Balance fuel flow to the burners

Reduce fuel pulsations

Manage mill heat balance and mill dynamics

Reduce boiler load swings