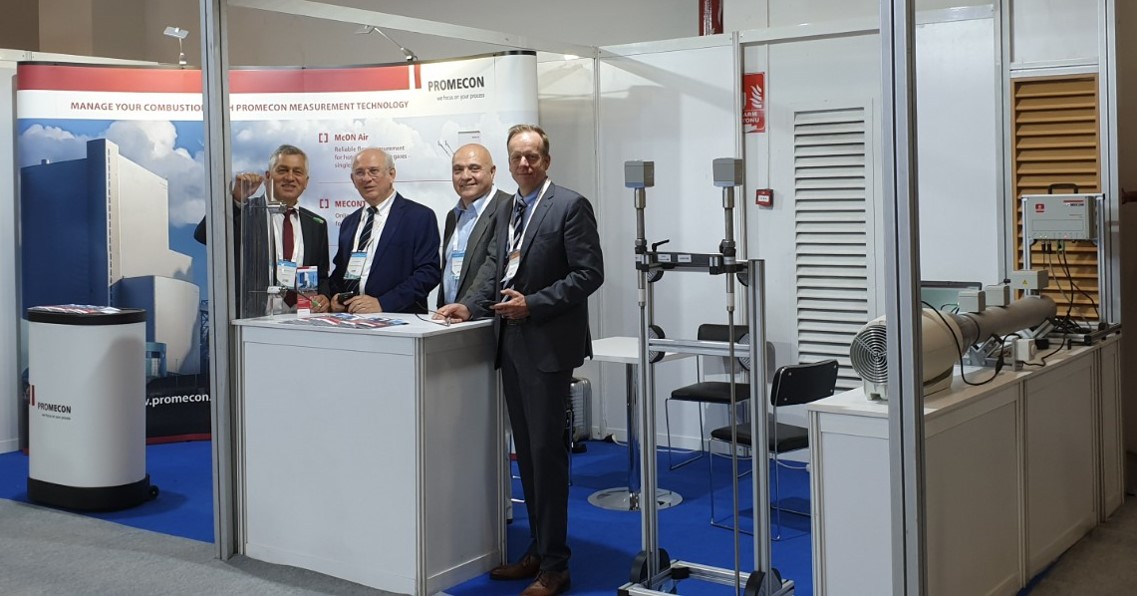 From 28 - 30 PROMECON attended the ICCI 2019 summit and fair in Istanbul, Turkey. Besides our Sales Agent Alexander Bryzgalov and our turkish partner, we also had our CEO Mr. Conrads visiting our booth. Beeing in Istanbul, he took the chance and talked about measuring very hot flue gas flows in power plants. The presentation describes a novel method measuring hot recirculation gas into a beater wheel mill and gives an outlook on the application of this measurement for the better control of the mill operation.
Beater wheel mills in lignite power stations usually have a flue gas recirculation duct which allows the use of hot flue gas to dry the lignite during the grinding process. The beater wheel itself is grinding element as well as mill fan at the same time. The speed of the wheel determines not only the crushing process of the lignite but also influences the gas flow through the mill. One of the operational issues of lignite mills is the correct control of the beater wheel rotational speed for which besides the feeder information and the airflows through the mill the recirculation flue gas flow into the mill is a process variable.
The measurement of this recirculation flue gas flow is an unsolved challenge in the power industry as this flow is very difficult to measure. The flow is up to 900°C hot. The vertical recirculation duct is also subject to heavier fall of solid material from the boiler inlet section which makes a measurement inside the duct very difficult. Also the heavy dust burden of the flue gas makes a classical delta P measurement with impulse lines connected to the process unreliable and hence not suited.
You can find his presentation here.