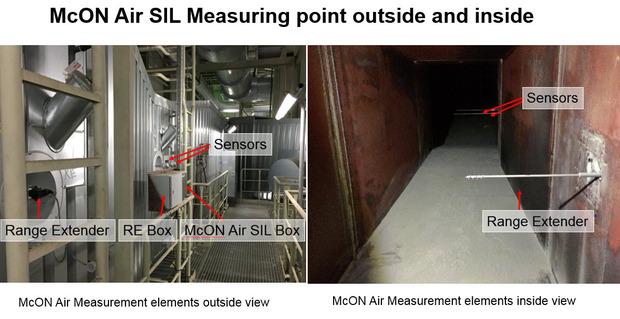 In 2016 the Secondary Air dP measurement sensors were completely replaced by McON Air SIL 2 certified flow measurement system. As a result the measurement reliability without drift and without maintenance is ensured, the control quality is increased, the operating costs are reduced.
The McON Air solution of PROMECON solved existing problems with blocked measuring pulse tubes by fly ash resulting into a systematic measuring drift and causing inbalance of air to fuel ratio. It saves maintenance costs by avoiding the necessity of frequent cleaning and costs of platform installation.
McON Air measures air velocity directly, is calibration free, has no pressure tabs or impulse lines, needs no regular maintenance. The measurement principle is 100% drift free.
The installation of the McON Air measurement system is easily and quickly realized.
From now the regular cleaning or recalibration are not necessary.
PROMECON guarantees the overall accuracy of the air flow measurement system over a long time.
The measurement is drift free.
The measurement operates accurately and safely without maintenance.
No system calibration is necessary.