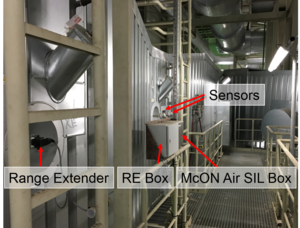 After PROMECON's McON Air flow measurement system successfully replaced the maintenance intensive ΔP measurement in secondary and overfired air at Block E, RWE Westfalen implemented McON Air for their primary air to the mills too.
Thereby Westfalen Block E is after Walsum Block 10, Maasvlakte Block 3, Datteln Block 4 and Berlin Reuter West Block D+E the fifth modern high performance power plant in Germany that uses our drift and maintenance free air flow measuring system.
The McON air measurement system processes the electrostatic fluctuations of the charged dust particles via two sensors. Using the cross correlation method, the sensor data is evaluated to determine the time the dust particles took to cover the distance between the two sensors (time of flight). The gas velocity can then be directly determined from the time of flight and the sensor distance.
At low dust conditions as f.ex first commissioning, start-up processes, shutdowns and especially after boiler revisions a Range Extender guarantees a pulsed ionization of air particles for a substitute signal. Therewith the Range Extender is used as an extension of measuring range. Even at very low air velocity McON Air guarantees a reliable measured value of volumetric flow.