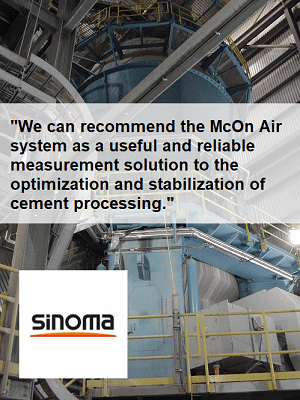 Sinoma (CBMI Construction Co., Ltd.), the world's largest cement equipment and engineering service provider from China, ordered several more McOn Air measurements for different production sites in Algeria. Since 2011, Sinoma has constantly purchased various PROMECON McON Air systems for their raw mill measurement points.
"We can recommend the McOn Air system as a useful and reliable measurement solution to the optimization and stabilization of cement processing." (Purchasing Department Sinoma)
McON Air opens new ways in the measurement sector. With the direct online measurement of the dust carrying gas flow, it is possible to monitor and control the mill grinding process. A short term change in material flow can have several causes. Mill pulsation, instabilities of the grinding process and operational limits are usually tied to these crucial air flow values. In order to keep the pulverizer control process in stable range, the most important thing is to have the accurate online air flow measurement of these processes. The nature of the gas flow through a raw- or cement mill is that the gases are contaminated with dust. A measurement of gas output from a mill or raw recirculates gas hence is possible. But even in clean gas measurement situation, when the flow is measured downstream of a bag house filter, over time the used delta P measurements are prone to drift.
The McOn Air digital online system requires no calibration, imparts no pressure drop to the system, and dies not drift over time.
At PROMECON we are happy to have Sinoma as our costumer!