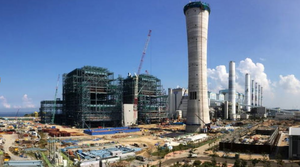 Various Korean newly built power plants will be equipped with PROMECON´s best-selling UBC measurement technology.
Just recently new MECONTROL UBC systems have been supplied or are in the final manufacturing stage for the various new built power stations. Amongst the new stations are Shin Boryeong power station Units 1 and 2 of Korea Midland Power, Dangjin power station Units 9 and 10 of Korea East-West Power Company as well as Taean power station Unit 9 and 10 of Korea Western Power.
PROMECON will deliver a total of 5 MECONTROL UBC systems to Korea with a total of 17 measurement locations for fly ash monitoring. PROMECON are serving these new installations through well-known South Korean OEMs such as KC Cottrell of Korea as well as through STX Corporation which were involved in the erection of the Air Pollution Control systems of these new South Korean coal fired power plants. By this PROMECON will become one of the leading technology providers in the South-Korean market for measuring fly ash quality and hereby continue to extend on its world-wide dominant market position in this field.