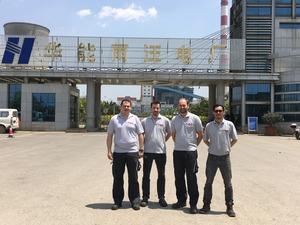 PROMECON has carried out a successful boiler optimization project with China Huaneng Energy Group, Yuwang power plant in China.
After successful implementation of the PROMECON MECONTROL Coal and Air system, the Huaneng Group asked PROMECON for a full optimization project to improve the boiler efficiency of Yuwang power plant unit 2.
The full boiler optimization scope included 24 MECONTROL Coal measurements, 56 MECONTROL Air measurements – all Made in Germany – advanced individual secondary air CFD windbox modification in conjunction with locally made coal flow and air dampers. The complete boiler tuning was carried out by a Danish boiler specialist supported by Chinese Technicians and PROMECON engineers from Germany.
The Performance Test has shown minimum result of 17% total NOx reduction, 5% reduction in coal usage and 16% energy savings in Primary Air fan.
Based on the success at Huaneng Yuwang power plant, PROMECON recommends Mecontrol UBC system as an essential addition to complete the Clean Coal Combustion optimization process. For future interests, PROMECON offers the entire MECONTROL systems, coal density dampers, coal flow dampers and air flow dampers that are made in Germany with the uttermost quality.