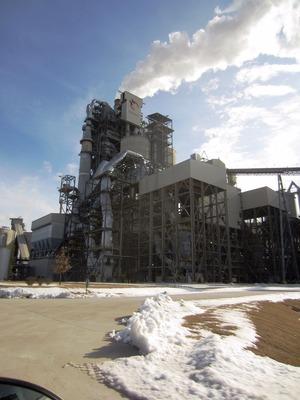 Holcim (US) plant Ste. Genevieve is very happy with PROMECON's gas flow measurements at their 4 cement mills. Since 2009 the largest kiln line in the world - approx. 40 miles south of St Louis – has used the MECONTROL Air system in a total of 16 measurement points. Especially the installation on the outlet ducts of the 4 finished product VRMs (type FLSmidth 'OK') is a real story of success. The sensors measure the raw gas velocity directly after the twin cyclones and before ID-fan and bag filter.
Due to the high accuracy of the velocity signal (+/- 2%) and no false air leakage from fan and filter, the operation can be controlled in a very stable manner at an optimum amount of transportation air. Compared to the usual control of only mill-dP, outlet temperature and the dP-measurement behind the filter, the MECONTROL Air system results in a much more constant air flow of the mill itself. The benefit is a permanently reduced power consumption of the mill fan.
Since its first commissioning in 2009 the system has been operated without any maintenance.